Our Memories from Dubuque, Iowa (2007)
---
| | | |
| --- | --- | --- |
| | Erynn and I spent two years living in Dubuque for my job at John Deere in the Construction & Forestry Division. Erynn continued to work for Northwestern Memorial Hospital from our home office. We enjoyed our time in Dubuque and got to see a new part of the country. The town has about 60,000 people and is on the Mississippi River at the corner of Iowa, Illinois and Wisconsin. | |
We moved from Dubuque on June 5, 2007, and I thought I'd share some our favorite memories of our time in there. I hope you enjoy them. If you're interested, complete hi-res photo albums from our time in Iowa can be found HERE.
---
Dubuque is in the Midwest, and Erynn & I are both from Ohio so the weather wasn't really that big of deal. However, I liked these two photos of 1836 Phyllrich Drive (N42 30.199 W90 43.661).
You can see more photos of our Dubuque house HERE. We rented the house from Locators Limited. I would not recommend the landlord nor the house. Don't get me wrong, both were okay but the landlord nickel and dimed us on the deposit (very poor form) and the three season room in the house was really a three week room. If you check out the photos there's a nice glassed-in back to the house, which acted as a greenhouse - too hot in the summer and too cold in the winter. It made the heating and cooling bills ridiculous at the same time as being unlivable.
---
I was very lucky in my assignments at the Dubuque Works. The factory is one of the largest in the entire company and is the largest in the Construction & Forestry Division. The factory does many things very well and is used as an example for many other factories within the company. I started out as a production supervisor in the Backhoe Division. I was then put on the project to move some products from our Woodstock, Ontario facility to ours. We got to start up two production lines from scratch and finish our first machine 89 production days after the project was announced (some kind of record). My last six months were spent working a regional master plan for our European Agriculture Division.
In the photo above you can see the three products Dubuque manufactured: backhoes, skidsteers and crawler dozers. Track Feller Bunchers and Knuckleboom Log Loaders were added from the Woodstock transition, and I was the supervisor on the Knuckleboom Loader line.
---
Friends from Dubuque
Dubuque is a notoriously closed society. Hard to explain unless you spent time there, but we heard it from everyone that had moved there from somewhere else. Most locals have very large extended families (predominantly Catholic community). So the joke is that people don't have time nor a need for outsiders because their families take up all their time. We were lucky enough to meet some really cool people though.
Kelli and Josh moved from Des Moines where they both worked for Deere. Having transfered into Dubuque like us they didn't know many people. Kelli and I worked as supervisors on the backhoe line and we ended up hanging out outside of work too.
Above are some photos from of them and us at Los Aztecas. More on restaurants in Dubuque later.
---
Kelli is a karaoke fanatic. Most of our evenings out involved going to a bar and me watching everyone else sing. ;-)
She competed in the Country Showdown in '06 and '07. She has a phenominal voice and scored highly both times. Above is a photo of the finalists singing at the '06 competition.
---
Kelli is famous. I have to say I was a reluctant participant, but we had a really good time and were sure to bring Josh the next year.
---
...and here's our boy Josh at the 2007 Showdown! We had a lot of fun.

This was also the evening we introduce Kelli & Josh to Spotted Cow. Prying the Bud Light from Kelli's hand was a challenge but rumor has it that a certain karaoke phenom has been known to make a dash across the border to score a 6 pack. Seriously, if you're ever in Wisconsin try some. The brewery can't keep up with demand so it's only available in Wisconsin.
---
Kelli was awesome at the Showdown, and other nights Erynn would showdown too.
---
| | |
| --- | --- |
| | Our friend Amy helped train Buckley to be the wonderful dog he is, and she also ran the Doggie Daycare. She's good people and we miss her (and Buckley misses her too). |
---
Matt, another transplanted Ohioan, and Karissa lived in neighboring, beautiful Galena, Illinois. Matt worked with me at Deere and is how we met them. The completely ironic thing is that we got transferred to North Carolina within a month of each other so you'll be seeing more of them in future photo albums too. Karissa rowed in college for a bit and we raced once together in Rockford. We went out for a couple practices in Dubuque on the Mississippi and decided our racing days were over after this one.
---
Friends Visiting Dubuque (Field of Dreams)
We were lucky enough to have a number of friends come to Dubuque to visit. About half an hour away in Dyersville is the farm where they filmed Field of Dreams. Since everyone has seen the movie and it's a beutiful place we took all our visitors there. If you've seen the movie yourself you should appreciate the photos.
Above are Erynn and her parents on the bleachers. The family that owns the house has preserved most of the elements from the movie and they have a little souvenir stand. If you build it they will come...
---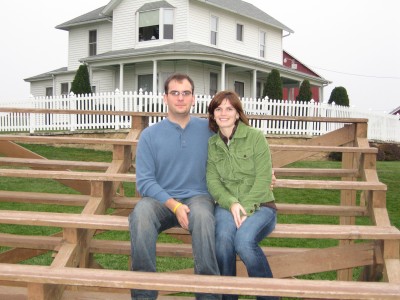 Our friends from Chicago came to visit for the weekend. From left to right: Mike, Melissa, Christine, MJ, Erynn, and myself. Then each couple took photos on the bleachers.
---
Christine & MJ and Melissa & Mike
---
One of the cool things is that the field is used for games, exhibitions and tourists playing around. Mike and MJ brought their gloves and we had a bit of fun.
---
Above is a nice panorama of the site. The Field of Dreams of today is actually owned by two groups. To get the picturesque setting for the movie they used a portion of the neighors land to make left field. But apparently the two families owning the field didn't get along so you can actually visit two Fields of Dreams: the Field of Dreams Movie Site that has the house and 80% of the field and the Left & Center Field of Dreams that only has the left and center field (plus a gift shop). It doesn't seem like that big of deal, but it can be confusing because the first entrance and sign you see as you drive from town is for the outfield site. You have to keep driving a few extra feet to the larger site. Of course, none of this makes any difference because you can walk to either once you park your car. Both sites make all their money from the gift shop, but for such a small tourist attraction having two gift shops is overkill - hence the tension between the two owners.
---
Ray Loves Annie
---
My parents also came out for a visit. The left photo shows them in front of the Julien Dubuque Bridge that crosses the Mississippi between Iowa and Illinois. I got the history buff gene from my dad, so we headed to Galena, Illinois to visit Ulysses S. Grant's house shown on the right.
---
We took my parents to Sring Green, Wisconsin to see Frank Lloyd Wright's Taliesin. We took the guided tour from a nice lady named Peggy. Above a photo of the courtyard. Erynn and I have been to a number of Frank Lloyd Wright buildings including Taliesin West outside of Phoenix. The Taliesin sites were used by the architect and his apprentices as a school and study. They headed northeast for the summer and southwest for the winter. For more photos from our day trip to Taliesin CLICK HERE.
---
Photos from Around Dubuque
Dubuque is an interesting city. It's very old and was one of the first settlements west of the Mississippi. However, it's still very small and isolated. It's well over an hour away from Madison, Waterloo, Gedar Rapids, or the Quad Cities. It's also a solid three hours from Chicago. Traditionally, the city existed on the back of the river and heavy industry. The workforce is highly unionized and not terribly friendly. The movie Take This Job and Shove It was filmed in Dubuque.

Everyone thinks Iowa is flat and most of it is. However, being right next to the river has its advantages because the river has carved itself into the surrounding hills. The left photo shows one of my favorite views - coming into downtown along Loras Blvd. But a photo can't do it justice. The buildings of Loras College are quite nice and you can see the river, the Wisconsin bridge, and the hills on the far side of the river all at once. I guess you'll have to imagine. The right photo shows a nice sculpture in Cathedral Square. Dubuque could be quite a nice place to live, but unless you like to eat at crappy restaurants, stay inside all the time with your relatives, and never exercise it really isn't.
---
The main tourist draws to the city now are riverboat gambling, dog track betting, and the National Mississippi River Museum & Aquarium. Above is a nice photo of the museum.
---
Here's Erynn in front of the big paddle wheel at the museum's front door. She also had a hand at piloting the William Black, and old Army Corps of Engineers steam dredger, that the musuem maintains. The museum focuses on the biology and commerce associated with the river.
---
Restaurants
Dining in Dubuque is not for the faint of heart. When asking a life long resident of the town where they would recommend to eat you'll most likely get in reply: the Ground Round, Olive Garden or Los Aztecas. Not that any of these establishments are bad per se it's just they wouldn't be my first response to the best places to eat. Above are a couple of our favorites: Salsa's on Main Street for Mexican and Cafe Manna Java (note Bessie out front) for coffee and thin crust pizza. Pepper Sprout is great for more formal meal, the Busted Lift is a famous bar in town with a good lunch, and Grape Harbor is a wine bar with a piano and open mic night.
---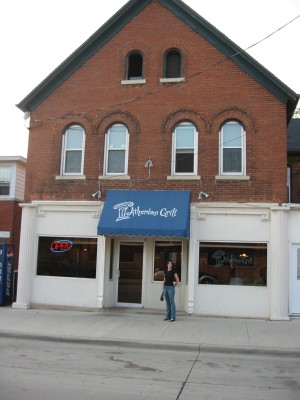 This series of photos shows another one of our favorite places and a phenomenon unique to Dubuque. The Athenian Grill is near the colleges in town and has great gyros and other Greek food. We ate there often, but on one occasion we were behind this girl who paid for her meal with a check (cheque). The total was for $4.70 and she paid with a starter check! There are a few things that we found to be terribly consistent in Dubuquers: poor restaurant taste, driving 5 mph slower than the speed limit at all times, and paying with checks for EVERYTHING!!!
God made the Visa check card for a reason people!
---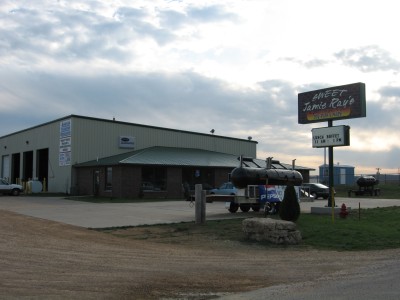 Another unique characteristic of Dubuque was to let really good restaraunts close. Above is Sweet Jamie Ray's, which used to be on Route 20 in East Dubuque. It was family run and the ribs were to die for. But I guess the Ground Round serves ribs so they didn't have a chance. The other place we loved was Torrero's, which was one of the best Mexican restaurants I've ever eaten at. Same story. It was family run and terribly good so no one went there and it closed. I didn't even get a picture.
The other tragedy was that for almost a year and at the same time Salsa's and Athenian Grill were being remodeled. So for half our time in Dubuque all of the worthwhile restaurants in town were closed. The good news was we still had a couple supper clubs to go to.
---
Other Memories
May 7, 2006: Erynn and I rented a canoe from Fever River Outfitters in Galena and went for a couple hour paddle with Buckley. This was Buckley's first canoe adventure and he freaked out a bit initially. He thought a motor boat passing by was a better place to be and jumped out of the canoe. He quickly realized his mistake and swam straight back to us. Erynn, ever the thinker, had brought a towel with us for just such an occasion. Once he was dry, he settled down and we enjoyed the rest of our day.
---
March 5, 2006: Erynn and I went Cross-country skiing in Swiss Valley Park just outside of Dubuque quite often. The park is beautiful with some nice trails. I only took the camera once on March 5, 2006 and took some photos in the twilight.
| | |
| --- | --- |
| | February 3, 2007: I am proud to report that Erynn is the 2007 Iowa Winter Games Classical-style Cross-Country Skiing Champion! (Event CC103) We have a state champion in our midst! We battled -1° F temperatures to complete the three loops around the Mines of Spain course in 58 minutes. I, Doug, did not fare as well. After my second loop around the course, one of the timing volunteers noticed that my right ear was developing frostbite so I was not allowed to continue. However, our professional clothing layer-er was actually too hot and finshed the race strong (She's cold in August so she has lots of practice at protecting herself from the elements). |
---
| | |
| --- | --- |
| | August 13, 2006: Erynn and I drove about an hour north to the Effigy Mounds National Monument. We took Buckley for a couple mile hike. The park affords some great views of the Mississippi River and a glimpse into the rituals of the ancient American Indians that resided in the area. There are many miles of well-manicured paths throughout the park, but it was too hot and hazy to last more than a couple miles. The left photo was at Fire Point overlooking the Mississippi River. It was very hot that day and Buckley and his parents didn't feel like walking much. |
---
Here's a panorama of the Mississippi taken from Fire Point in the Effigy Mounds National Monument. Wisconsin on the left and Iowa on the right.
---
On the way home from the Effigy Mounds we stopped in McGregor for some beer brats, which Buckley thoroughly enjoyed. After lunch we stopped at the Pikes Peak State Park for nice view of the Wisconsin River emptying into the Mississippi. Buckley is checking out the Point of Discovery plaque which details the story of the first explorers to reach the upper Mississippi via the Wisconsin River.
---
Jack-o-lanterns are cool. These are from 2005.
---
October 28-29, 2006: Erynn and I drove up to Madison, Wisconsin for the weekend to buy a new car. We've had terrible luck finding both a good car and a good dealer. Fortunately after about a month of trying, we found both in Jonathon at Fields Auto who got us into a brand new Volvo S40 T5 AWD. We named him Sven.
After we bought the car, we spent the night and next day in Madison, which is a beautiful city as you can see from the photo of Camp Randall Rowing Club on the shores of Lake Monona. The weekend was capped off nicely by a wonderful Sunday brunch at the Come Back In. If you find yourself in Madison, you have to go there for lunch (N43 04.560 W89 22.595).
---
Moving Day
The movers came to pack us up on June 4, 2007 then they threw everything on the truck the next day. Our stuff only took up the very front of the trailer and they put the Lotus and Bessie on the truck too. I was very nervous. If you'd like to see a bunch more photos of how the movers got the cars into the trailer click HERE.
---
This makes our second rainbow we've seen as we've moved. The first was in Bristol. You can't tell from this photo, but it was actually a double rainbow.
---