Pictures from Salt Lake City (2008)
---
Erynn and I headed out to Salt Lake City to spend Thanksgiving with her big sister, Aly, and the rest of the family. We had been out to see them a couple years ago and you can see those photos HERE. We ended up spending a week in Salt Lake this time and got to see a couple things we didn't see on the previous trip. But in general, since we'd been to SLC before we didn't take as many photos as is normal for one of our trips.
The big excitement for this trip and the reason that everyone made the trip out to Salt Lake was that Aly and her husband, Kris, had just given birth to a son, Ashton, just a couple weeks prior. Aly and Kris have created a blog with news and photos of Ashton HERE if you'd like to take a look.
---
One of the main tasks for the trip was to take a family photo. It's rare that everyone is in the same place so Aly took the opportunity to get a nice photo taken. We actually took the photo near the end of the trip, but I included it first just because we look so good. You can click on the photos to see the full resolution version (files are quite large) if you'd like to save it to your computer.
As you can see, the boys were in white and the girls were in black. If you'd like to see a full resolution version of the family in color click here.
---
Kristian is always good for a laugh. We took the photo in their housing sub-development's club house. In the club house is a weight room and pool. I decided against posting the hilarious photo of the pool warning sign. Apparently it's a serious problem and parents actually require being reminded in a very graphic manner.
---
Random Photos of Ashton
Left Photo: Chris, Amy (holding Ashton), Erynn and Aly
Right Photo: Preggers Amy peering into her future
---
Bath and changing time.
---
Soon-to-be parents, Chris and Amy, practicing on Ashton.
---
Ashton had Tummy Time every day to help him strengthen his arms, neck and back. Apparently, Caleb needs Tummy Time too.
---
Amy liked my purple socks...
---
Ashton's Blessing
A couple photos from Ashton's blessing:
Top Left: Seth holding Ashton
Top Right: The Carrieres and Laws
Bottom Left: Aunt Bonnie and her grand daughter
Bottom Right: Bunch of us in the kitchen. Looked like we were standing around a fire barrel so we all posed.
---
Hill Air Force Base & Aerospace Museum
One day the clan all headed to the Hill Aerospace Museum in Ogden, Utah. There is a large outdoor field of aircraft and a couple large indoor hangars. We only spent an hour or so walking around, but I imagine you could spend a couple days learning everything there is to know about the aircraft on display.
---
The planes are huge!
---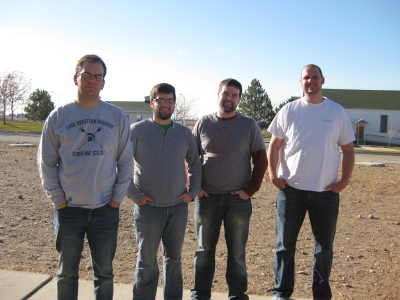 Myself, Caleb, Seth and Kristian.
---
Erynn and her dad in front of the SR-71 Blackbird and Erynn getting ready to eject.
---
Fly Fishing on the Middle Provo River
Erynn and I had just learned to fly fish a couple weeks earlier so we brought our rods and decided to fish the Provo River. We made a guide reservation with Four Seasons Fly Fishers in Heber City.
Erynn's family went to Heber City all the time when they were kids and one of her fondest memories was of Granny's Ice Cream. As you can see it was closed for the season, but we still got a photo!
---
We booked a half day excursion with Craig, our guide. The left photo shows us all kitted up with the Wasatch Mountains in the background. The fishing wasn't all that great that day, but the scenery was amazing and worth the price of admission. I think we'd go back in a heartbeat.
---
A couple photos of Erynn with our guide.
---
I mentioned that the fishing wasn't very good that day. We both got bites, but Erynn was the only lucky one. I don't count the one stocked Rainbow Trout I snagged in the back as actually catching a fish. However, Erynn did catch about four Brown Trout. None of which would be worth mounting. Definitely Erynn-sized fish though.
---
I did get some footage of her landing the minnow...
---